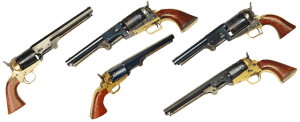 Do you have a handgun that no longer fits your needs? Handguns have been evolving for centuries, while still holding their value! Just because you have moved on to a different caliber and style, doesn't lessen its worth!  Why let it just collect dust when you can turn it into cash?  Get the most cash possible to sell handguns Scottsdale residents, by going to the pawn shop you know and trust.  North Scottsdale Loan and Guns continues to be a top contender when it comes to buying handguns! We have the most accurate valuations and offers that put cash in your pockets!
Pistols and Revolvers Continue to Make History
The first propellant charge that included the bullet and primer to ignite it came to be during the 16th century. This innovative capability called a cartridge, gave way for Sam Colt to create a handgun that could load 3 cartridges at a time. Not only that, but this gun also had interchangeable parts, enabling it more accessible to repair the guns with less cost. This contribution to handguns revolutionized and was just the beginning to shaping pistols and revolvers of today.
The beauty and an alluring feature are how even those firearms of yesteryear, and of today hold their value. It is to be noted, that there are a minimal number of things to invest in and made today, that will be considered worthy next year.
Handguns we love to buy…just to name a few:
Ruger Mark IV

Single Six
Single Seven
LCP
LCR
Blackhawk

Wilson Combat EDC X9
Taurus Raging Bull
Colt Woodsman

Frontier Scout
Single Action Army
1911

Glock 17
Magnum Research Desert Eagle
Remington XP-100
Sig Sauer P320
Beretta 92
Smith and Wesson 686

29
Shield
K22/617
Victory
Contact us via live chat by clicking on bottom right and start the process before you arrive!
Text us at (480) 422-1826 if you have any questions!
Valuation of Handguns are Accurate and Complete in Minutes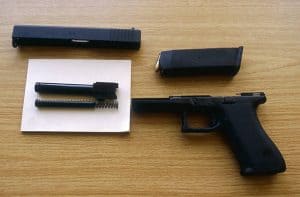 The value of the handgun is the first thing that needs to be verified. Within in as little as 5 minutes our in-store manager can have this assessed accurately and present you with the best cash offer possible!  The is only fees able because of the extensive skill and training he received in the military. He shares with us and our customers his skills and knowledge that allow us to make offers with such accuracy!
First, he inspects the handgun and makes sure that it works correctly. After that, he looks at the exterior condition of the gun. This is to note if any marks or scratches are visible on it.  Finally, he confirms the fair market value to date. With all this in mind, a cash offer is presented to you.
Our appraisals are given as a courtesy to customers, without any obligation to accept our cash offers. Why would we? There's no need when we know our cash offers are hard to beat!
Accepting Our Offer
Upon acceptance of our cash offer, we need a couple of signatures and your current and valid ID. Once you've given us that, we count the agreed amount into your hand! It is simple, easy and hassle free! 
North Scottsdale Loan and Guns the best service and quotes around town! We have served the North Valley for years, and will continue for years to come!