We offer the most cash to Pawn Ammo Scottsdale residents at North Scottsdale Loan and Gun! We accept any and all kinds of complete boxes of ammo for handguns, rifles, shotguns on the practice range or hunting. Whether you just have boxed ammo to pawn or want to bundle with your firearm, we are here to help!
We Offer the Most Cash When You Pawn Ammo Scottsdale!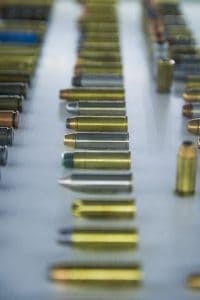 Yes, we do offer cash to loan on any style or caliber of complete sets of boxed bullets. It is imperative though to understand that we cannot accept, buy or pawn any loose or reloaded bullets.
With that in mind, here's just a sample of boxed ammo we will accept to secure a cash loan:
9mm Luger
.22 LR
.38 SPL
.40 S&W
.380 ACP
And the list goes on!
Pawn Loan Advantage
The advantage of pawning something, is very simple. Based on the item(s) fair market value a monetary offer is presented to the customer. Upon acceptance, we just need a few signatures to put that cash in your hand on the spot! The item of value is the "security" for your 90-day loan. This simplifies the loan process, without the hassle of credit checks or proof of income needed.
The best part, is that is up to you on how you want to pay back the principal and interest. You can pay it off in one lump sum, or make payments weekly, bi-monthly or monthly. If paid in full before the 60th day, we will deduct a redemption discount from the total payout.  In addition, we do not add any penalties or fees for early payment.
However, if you find yourself unable to pay it off by the end of the time frame, we have options. You can choose to extend the loan for another 90 days, provided you pay the interest due. Lastly, you can always opt to let us keep the ammo and be done with the loan.
Let Us Answer Any Questions You May Have
At North Scottsdale Loan and Gun, we want to be your first choice to get cash when you need it! That is why we offer multiple ways to contact us for any questions you have. Click on the bottom right for our live chat and we can answer any questions and start your paperwork before you even come down!  You can even text us 24/7 at (480) 422-1826.
 Send us your question via text or simply call us at the number provided when you scroll down to the end of the page!