Pawn Scopes in Scottsdale
Vortex, Leupoid, Leapers, Nikon
Even the most skilled shooters attest that scopes are essential to hitting your target, whether it's in  a tactical or a hunting realm.  The scope helps your aim by adjusting the distance, focus and variables that affect every aspect of your aim and target. Which makes us invest more in a scope than the rifle itself at times. Considering the time and money spent on your scope, it is not easy to part with.  If you need to pawn gun scopes Scottsdale, we can help! North Scottsdale Loan and Guns is second to none when it comes to correctly valuing your rifle scopes and turning it into cash!
Rifle Scopes Can Bring a Cash Loan into View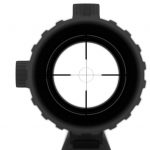 There are definite advantages that scopes offer depending on the range or size of your focal point. There are always the basics that scopes come with, like windage and elevation adjustments. But there are multiple aspects that can determine a scope's valuation.  The quality and durability of lenses and the scope are a major consideration. It is essential that scope and rifle bring out the best of them both. Basically, the more range you have for each adjustment will increase your ability to heighten your shooting ability in varied terrains and weather.
Here's a range of scopes we offer a pawn loan on:
Meopta Meostar R1 3-10x50mm
Leupold VX-1 3-9x40mm
Trijicon AccuPoint 2.5-10x56mm
Swarovski Z3 3-10x42mm
Redfield Revolution 3-9x40mm
And that's just a small sample of scopes we accept!
Assessments Become Cash When You Pawn Gun Scopes
Our manager at North Scottsdale Loan and Guns is a veteran of the military. With an immeasurable knowledge of firearms and accessories, you can have an accurate value of the cash to loan in minutes.  First and foremost, he will make sure that all the features and adjustments work correctly. After that, he looks at the cosmetics of the scope, ensuring that the exterior is in good shape. As a result of all that said, you will be presented with the best cash offer possible!
If the offer is accepted, we will need a couple of signatures along with a current ID. In the end, within less than 5 minutes you could be out the door with cash in your hands!
Paying Back the Pawn Loan
The term of any and all pawn loans are for 90 days.  During the time paying back the loan with interest, your valuable scope is kept in our secure vault. Within that time, you can pay back the loan at any time and at any pace. For instance, some pay it all at once before it is due. If that's the case, the interest is prorated to date paid and there are no penalties added. There are others that make payments and need the full 90 days to satisfy the loan. The need for more than 90 days also occurs. We can help with that too! With just the interest paid to date, we can extend your loan for another 90 days.
The day your loan is satisfied, we return your scope to you! You will receive it back in the same condition as the day you brought it to our store!
Pawn Scopes with Your Firearm, or By Itself
We offer pawn loans on your rifle scopes with your rifle or shotgun, or just the scope alone. It all depends on the amount you are needing at the moment. Each and every accessory you bring with a firearm to bundle, the more cash we can offer to loan.
Text us 24/7 at (480) 422-1826 for a fast response to your questions.
Or contact us via our live chat by clicking on the bottom right, and start the process before you arrive at our store!