Ae you looking to slim down your shotgun collection and put some extra cash in your pockets? Well, you found the right place to sell shotguns Scottsdale residents and get the best cash offers in town!  Here at North Scottsdale Loan & Guns you can save time while getting the most cash possible for firearms, accessories and boxed ammo! 
We Know How to Gauge the Guns Shot!
There's more than meets the eye when you invest in shotguns They started out in Europe to hunt birds aka "fowling pieces".  With hunting small animals, it is better to have multiple small pellets per spread as they're advantageous with their agility. They began with some having a 6-foot barrel, but it was shortened in the 19th century. With less weight, the double barrel shotgun was created. The leads fire power then achieved a more controlled spread with the choke bore. In addition, the shotgun gained accuracy and range.  
A shotgun now has about a 50-foot range, semi-automatic capabilities, and allowing multiple shells to be loaded.  The sure power and spread can be felt pulling the trigger and are undeniable when it lands the target.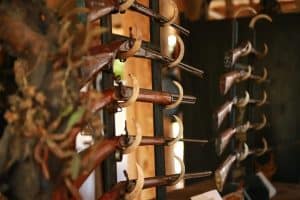 The list of shotguns we will buy is limitless.  But here's a few examples:
Remington 870
Mossberg
Franchi Affinity Elite
TriStar TT-15 Field
Benelli 828U Sport
Caesar Guerini Revenant
CZ-USA CZ 1012
Stevrns 320 Field Grade
We will buy them…from 10-gauge to 28-gauge, skeet shooting, hunting fowl and tactical shotguns
The Best Offers from the Best Gun Store in Town!
Whether you have a single barrel or double barrel, the latest release or a historical fire piece, we will aim to offer you the most cash!   Our ability to make the best offers is no accident!  We know our cash offers are accurate, because our manager served in the military. His extensive knowledge of shotguns and firearms is impressive!  The assessment of the shotgun can be completed and a cash offer given to you in as little as 5 minutes. 
First and foremost, with everyone's safety in mind, please do not bring in your firearm loaded or loose ammo!    The valuation will start by confirming the shotgun is in good working order.  Followed by, taking a look at the condition of the shotgun's appearance. This is ensuring there are no marks or scratches on the surface.  Finally, considering the fair market value of the shotgun, you will be presented with the highest cash offer.
By no means are you obligated to accept the offer and the appraisal is a courtesy we offer free of charge.
Cash in Your Hand Within Minutes
If you accept the cash offer, it is required by law for you to provide a valid and current ID and a couple of signatures.  As you are crossing your last "t", a stack of cash will pile as we count out the agreed offer.  You will be on your way out the door with cold, hard cash quickly and hassle free!
Engage with our live chat by clicking on the bottom right. An associate can begin the process before you even walk in the door!
We can answer any questions you have 24/7 quickly, via text at (480) 422-1826.
The Best Offers and Service in Town!
We have proudly been serving Paradise Valley, Scottsdale and North Phoenix for more than 10 years!  To buy, sell or pawn your firearms and get the best offers, you know you can trust North Scottsdale Loan and Guns!